Understanding Trampoline frames and planned obsolescence
19th November, 2020 | 7 min read
No more trampoline mistakes - understanding trampoline frames and "planned obsolescence"
There are basic trampolines and quality trampolines on the Australian market and just to the casual eye they can all appear to be the same. However, there are many improvements that can be easily overlooked. When it comes to nets and pads it can be a little easier to detect when there are quality materials being used or not, by being able to look, touch and feel (for the purpose and clarity of this article we will stick with just discussing the quality and thickness of the trampoline frame and not the other consumable parts).
How can you tell which trampoline frame is better than the next one?
It is a little trickier to see the steel frame as it is somewhat covered by the padding and netting etc. But the frame is the main structural part of the trampoline and you want to know you have the bones that will last and keep your family safe.
To discuss trampoline frames we need to cover a little history with you.
Trampolines of Yester Year
In the early days of trampolines when they were all rectangle, as with anything made 50-80 years ago, they were made to last.
Trampoline frames sold in Australia were made of thick quality Australian steel and were of a thick diameter as well. They were properly double galvanised to last for 30+ years (we all know Aussie steel is of some of the best in the world).
However, they were expensive and generally outside the budget of the average; middle-income family.
As I reflect upon this, I only recall one family who had a trampoline other than us and I know my father bought ours second hand (it lasted through my childhood and our children used it until only 8 years ago when we gave it away when we moved house, it may still be in use).
Since the 1960s there has been a culture to give products a shorter life, simply for the reason that products with long lives aren't good for the economy (as a parent and consumer I find the short life culture of items very frustrating and overall expensive).
The economic term is planned obsolescence or built-in obsolescence in industrial design and economics. It is known as a policy of planning or designing a product with an artificially limited useful life, so it will become obsolete, meaning, unfashionable or no longer functional after a certain period of time. [1] The rationale behind the strategy is to generate long-term sales volume by reducing the time between repeat purchases (referred to as "shortening the replacement cycle") - source Wikipedia
Why the huge shift to round trampolines?
Round trampolines were introduced to the marketplace about 20 years ago in 1996 when Jumpsport in America developed the trampoline safety net. They were predominantly introduced by department stores ,making them available to the masses and on the whole; while affordable, they did establish a reputation of being made of poor steel grades and at thickness that didn't last. This seems to have become a bigger issue with Australians than it is with the Americans. Australians as a nation are very savvy consumers and justifiably so do expect affordable quality trampolines and also seem more conscious of landfill.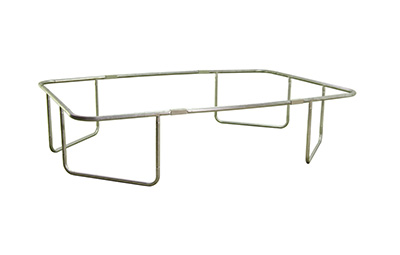 Round trampolines by their curved circular shape do have the strength within the shape that rectangle trampolines do lack by having long straight sides and therefore round trampolines can get away with thinner steel.
A rectangle trampoline had at least 2.5mm thick steel and of a diameter of 5-6cm.
Round trampolines came out with a frame 2.5cm – 3cm in diameter and steel was as thin as 1.2mm.
They had lower load ratings than the rectangle trampolines but still, in a very short time frame and with only 50kg on them, the springs would quickly begin to wear away at the frame and eventually tear through or if this didn't happen, the would soon rust due to the poor quality galvanising over very thin steel.
They would regularly either collapse with not much weight or fold up like a taco especially if the netting had been removed.
For many replacing a trampoline, every 2 years wasn't a problem for others, however, be it the time to reassemble, the transferring of materials to landfill or how ugly the trampoline soon looked all have contributed to consumer demands for better quality trampolines.
So before buying a trampoline and while comparing one trampoline against another, be sure the supplier has their spec sheet available online to see how thick the frame tube is and the thickness of the steel itself.
You will find our specs on each of our trampoline product pages, under the photos, a blue tab that says "Specifications".
GeeTramp Frame - built to last
Our business model is to deliver the best quality frames, stronger by design, while still using thick steel tubes both in thickness and diameter for frame and legs. We want you to grab hold of the frame and say, "this is more like the fame I had when I was a kid", (that is if you are over 35). Planned obsolescence is not a part of our vision; quite the opposite - we want our GeeTramp trampolines to have the reputation of lasting in all areas not just the frame.
Quite some years ago now - 8+ I think we changed factories and with that upgrade the steel thickness on our round trampolines from 1.5mm to 2mm. I was comparing them both by jumping in the warehouse on stable ground; the bounce on the 12ft round from factory one to factory two. The only change made to the new round trampoline was the steel thickness and the frame joints to a square fittings but the difference in the bounce really did take me by surprise really higlighting that a strong frame really aids in the bounce. Even taking your family from a low grade steel and thickness to a quality round trampoline the kids will notice a difference in the bounce.
GeeTramp Trampoline - Carton Size, Weight and Delivery
We are often contacted by prospective customers regarding delivery of our trampoline to their door and querying if the amount on the shipping calculator is correct. Mostly it is but if you are wondering please feel free to check in with us.
The reason for typically higher delivery costs on our rectangle trampolines can be attributed to the carton lengths as anything over a pallet size of 120cm attracts "oversized" penalty rates on freight and cartons over 25kg are considered a 2 man lift under OHS and also are priced accordingly or for 2 man lift or specialist lifting equiptment costs.
If you have a look at the specs on our rectangle trampoline compared other brands you will see the weight of our cartons total is in many cases a lot more. You will also note we typically have more cartons and they are bigger and heavier.
As is explained previously; the frame tubing diameter and thickness is crucial to the bounce, further to that so is the number of pieces in the frame structure where the springs sit.
With the view and aim to to reduce our packaging sizes we had trampoline samples made at the factory with shorter frame peices (more pieces to make up the frame and more joiners). However right from the very first bounce we knew the quality of the bounce was greatly reduced. We tried different connecting joins, corner bracings, and springs but nothing with short frame pieces increased the bounce to what it is with less pieces in the frame. It was very noticable how much the increased number of frame pieces used to make up the trampoline directly compromised the bounce and weakend the strucure through increased movement to both Andrew and I that we disbanded the idea.
We believe and many happy customers agree that the short term pain of the freight is soon forgiven when the kids are getting the bounce they want and expect from their trampoline.
If you have any questions please feel free to message here or phone (03) 52921100. Continue to scroll down the page for more links to relevant articles.